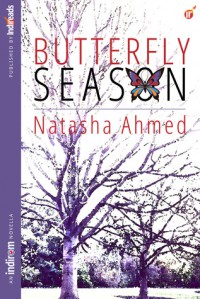 ★★★★1/2
Butterfly Season is Natasha Ahmed's debut work. The author writes a sweet tale of romance and passion in this novella. The story focuses on the problems faced by the fairer sex in a society that frowns upon physical intimacy outside of marriage.
Rumi has come to London to relax after taking care of her ailing mother single-handedly for six years. She has modern liberal views and at the same retains her 'desi' values. She is good-looking, smart and not afraid to pursue her dreams and wishes. She is also shy, accepting and vulnerable.
Ahad, a man born and brought up in London, he is well-educated, good-looking,carefree, charming and somewhat of a cad. In typical male fashion, he shies from commitment and does not want to think about the future even when Rumi gets under his skin.
What I liked about the MCs was that they ere strong individual characters who showed maturity at last. I abhor weak-minded heroines who are dependent on others. I admit in the beginning, I was worried about this particular problem. But I was worried for naught, it turned out.It is equally pleasing and rare that we see heroines who are not afraid to pursue their wishes and who become self-reliant and self-dependent to fulfill those wishes instead of using their family or the hero as a crutch.
What I however did not like about the MCs was that they were potrayed younger than they actually were. When I read how old they actually were, it took me a few minutes to process their ages.Rumi,30 seemed to be in her mid-to-late twenties and Ahad,38 seemed to be in his late-twenties or early-thirties. Another problem that I faced was that the POV of the supporting characters was a bit distracting. Also, in the end the sisters reunion felt a bit abrupt but that can be forgiven as it is a novella not a full length novel. Another predicament in the book was that the foray to share Pakistani culture were somewhat abrupt.
The writing style was quite good.The narration was smooth. For me, the climax or rather what came after was the highlight of the story. I liked how upon realising his mistake(with a nudge from his oh-so-helpful friends), Ahad embarks to set things right even going so far as to propose marriage. I cheered even more when we meet the mature, rational , level-headed girl in Karachi and she rationally solves their problems and declines marriage. Some might say the story lacked a proper epilogue but I applaud the author for the perfect ending she gave to the story.
This is a story that sneaks up on you. You think at first that the story, the characters are all ordinary but soon you end up cheering and rooting for them. A story that in the beginning I thought of as 3 stars ended up with 4.5 stars.
~I received a copy of this book as a part of Indireads Reviewer Program in exchange for an honest review~